DICEMAN™ is the latest game in our standalone portfolio with a 2 level Progressive Jackpot. The game comes to life with impressive looks and game features like never before! Our original character "DICEMAN" provides the chance to win up to X744 multiplier in the Free game. DICEMAN brings an unforgettable experience for players who love a smash hit.
Overview
DICEMAN Reel Selections: More DICEMAN Reels increase a chance to win Dice Multiplier feature!
Players can select the number of "DICEMAN Reels" to play with by changing bet levels.

Dice Multiplier feature: Multiplier is determined by rolling 2 dice
Dice Multiplier feature is randomly triggered when the Wild symbol on a DICEMAN Reel substitutes in a win. In this feature, players roll 2 dice, any wins with the Wild symbol will be multiplied by the outcome of the dice.
Free Games feature: Awards up to 64 Free games or X62 Multiplier!
A Free game is initiated when 3 or more Dice symbols land on the reel.
《Dice Circus feature》
Roll 2 dice to proceed on a map and collect Bonus awards which determine the condition of Free games played after the feature.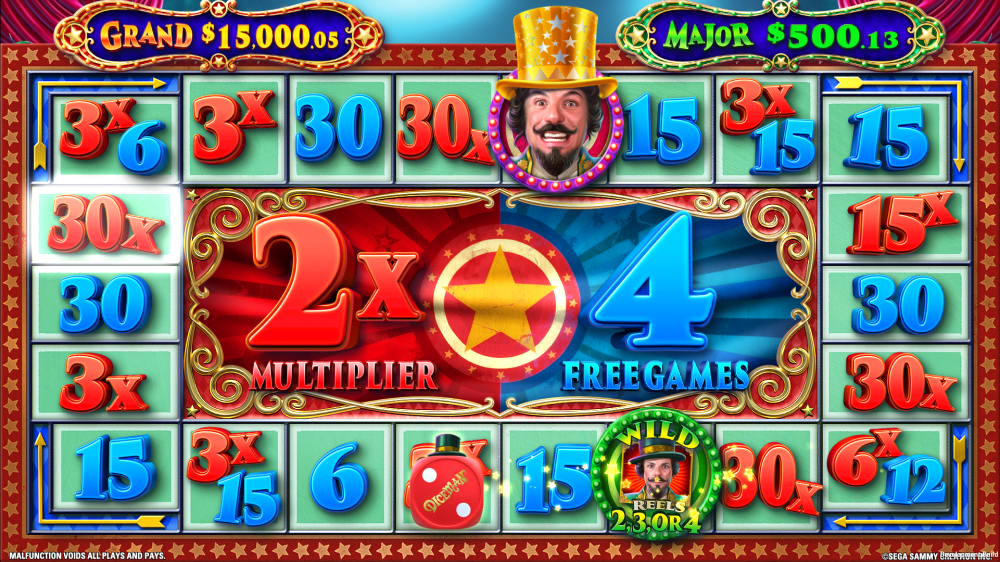 《Aim to win X744 Multiplier!》
If players hit X12 Multiplier in the Dice Multiplier feature during this sessions and X62 Multiplier is the condition, wins will be multiplied by x744!!
Progressive Jackpot: Randomly hit!
The game provides 2 Progressive Jackpots. The Grand or Major jackpots are randomly won during any bought game.
*The contents described herein are subject to change without notice.