Eastern Prosperity™, latest addition to the Mighty Diamonds™ Family brings a new exhilarating feature "Prize Surprise" that randomly upgrades the credit prize on the Ingot symbols. This unique feature builds anticipation and breath-taking excitement with the Diamond Spin Feature.
Overview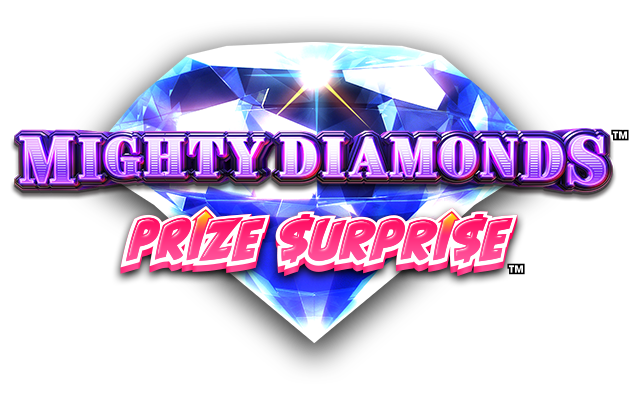 Symbol Copy Feature: Reels can expand up to 7 rows
If at least one winning combination is formed, symbols except for Ingots and Diamonds will be copied and added above the reels randomly.
Diamond Spin Feature:

Diamond Super Symbols heat up the "Hold and Respin" feature!
When the Diamond Spin feature is triggered, all credits are accumulated to determine the Diamond symbol value, this value is awarded each time the Diamond symbol appears during the feature. The feature begins with 3 Free spins. Every time a gem appears, the available free spin resets to 3, continuing the feature with gems held. This player-favorite feature gives players a heart-pounding experience with every Diamond Super symbol that appears on the reels!
NEW Prize Surprise Feature: Boost your wins
When the Prize Surprise Feature is triggered, credit prize on the Ingot symbols will be upgraded. This feature boosts the Diamond symbol value and brings a big win opportunity to players in the Diamond Spin Feature.

Bonus Wheel Feature: Spin the wheel with Multipliers and Jackpots!
Bonus Wheel Feature is triggered when all 15 positions are filled with gems during the Diamond Spin Feature. A wheel with Multiplier, Major and Grand Jackpots will spin to award an additional bonus.
Extra Ingot Feature: Additional Ingots bring more chances to win!
Ingot symbols with credit prizes are added to the top of the reels randomly. This feature contributes to trigger the Diamond Spin Feature and gets the feature more advantageous.
Watch Video▼
*The contents described herein are subject to change without notice.